M.M. Gryshko National Botanical Garden
Національний ботанічний сад імені Миколи Гришка НАН України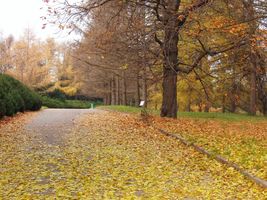 botanical garden in Kyiv, Ukraine
National M. M. Hryshko botanical garden (Kiev)
Wikimedia Commons category: 
Geographical coordinates: 50.41267 30.56225
Wikipedia
Wikivoyage
English

Hryshka Botanical Garden (Botanichnyi sad im. M. M. Hryshka, Национальный ботанический сад им. Н. Н. Гришко)

The perfect place for a stroll in any season. There are unique floristic complexes on 130 hectares: 'Forests of the plain part of Ukraine1, 'Ukrainian Carpathians', 'Steppes of Ukraine', 'Crimea', 'Caucasus', 'Central Asia', the 'Altai and Western Siberia', 'Far East'.

Address

Tymiriazivska str., 1

Price

20 грн, Greenhouse 5 грн
Russian

Национальный ботанический сад имени Н. Н. Гришко НАН Украины

Второй ботанический сад в городе, известен Выдубицким монастырём, расположеным рядом, прекрасными видами на Днепр и сиренью, которой любуются горожане весной, когда та цветет.

Address

ул. Тимирязевская, 1
Places located in M.M. Gryshko National Botanical Garden
The Trinity Monastery of St. Jonas (Ukrainian: Свято-Троїцький Іонинський чоловічий монастир; Russian: Свято-Троицкий Ионинский монастырь) is a Ukrainian Orthodox monastery in the Kievan neighbourhood of Zverinets, a short distance from the medieval Vydubychi Monastery.
It was Jonas, a Vydubychi hegumen, who founded this monastery in 1864. Princess Vasilchikov, the widow of Kiev's Governor General, decided to support the undertaking and presented her dacha to the brethren. It was on these grounds that the katholikon was constructed. The monastery's bell tower, at 110 meters, was to be the tallest in the Orthodox world. Its construction was halted due to the outbreak of World War I. As many as 800 monks resided there at the time.
The monastery was closed in 1934 and its grounds were taken over by the M.M. Gryshko National Botanical Garden. The monks of the recently revived monastery now help to restore the nearby Zverinets caves.
az

Ukraynanın Milli Botanika Bağı
be

Нацыянальны батанічны сад Украіны
de

Nationaler Botanischer Garten Kiew
hy

Հրիշկոյի ազգային բուսաբանական այգի
mk

Национална ботаничка градина Гришко
ml

ഹ്രീഷ്കോ ദേശീയ ബൊട്ടാണിക്കൽ ഗാർഡൻ
ru

Национальный ботанический сад им. Н. Н. Гришко НАН Украины
tr

Hrışko Ulusal Botanik Bahçesi
uk

Національний ботанічний сад імені Миколи Гришка НАН України
be-tarask

Нацыянальны батанічны сад Украіны