Brouwersgracht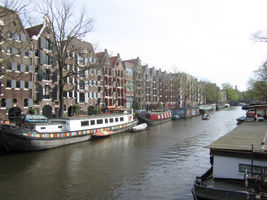 canal in Amsterdam
Geographical coordinates: 52.37972 4.88917
Wikipedia
English

Brouwersgracht
The Brouwersgracht is a canal in Amsterdam that connects the Singel with the Singelgracht.
The canal marks the northwestern border of the Grachtengordel (canal belt).
Between the Prinsengracht and the Singelgracht the Brouwersgracht forms the northern border of the Jordaan neighborhood.
The house numbers of the Lijnbaansgracht, the Prinsengracht, the Keizersgracht, the Herengracht and the Singel start to count from the Brouwersgracht.
The Herenmarkt is located between Brouwersgracht no. 62 and no. 68, near the West-Indisch Huis (West Indies House).
In 2007 Brouwersgracht was voted the most beautiful street in Amsterdam by readers of Het Parool out of 150 nominations.
Source: Brouwersgracht
Spanish

Brouwersgracht
Brouwersgracht es un canal de Ámsterdam que conecta los canales Singel, Herengracht, Keizergracht y Prinsengracht. El canal marca el límite noroeste del Anillo de Canales.
Source: Brouwersgracht
French

Brouwersgracht
Le Brouwersgracht est un canal secondaire situé dans l'arrondissement Centrum de la ville d'Amsterdam aux Pays-Bas.
Source: Brouwersgracht
Wikivoyage
English

Brouwersgracht

This canal is sometimes cited as the "most beautiful street of Amsterdam". The name, "Brewer's Canal", refers to the many beer breweries along the canal in the 16th and 17th centuries. Nowadays, there's just one distillery left, De Ooievaar, that has been located here since 1782 and specializes in Dutch jenever and liquors. The warehouses here used to store goods such as coffee, spices and leather, but now serve a residential purpose. Traditional warehouses with the row of spout gables can be found at Brouwersgracht 196–188, and at 204, 206, 208 and 210. Also check out the wide-open red shutters at Groene Valk (192) and Grouwe Valk (194). Geloof, Brouwersgracht 218, shows the typical "neck" gable designed by Philips Vingboons.