Australian National Maritime Museum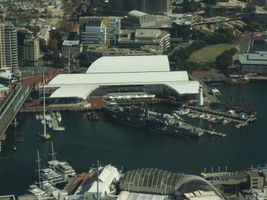 maritime museum in Sydney, New South Wales, Australia
Australian National Maritime Museum
Wikimedia Commons category: 
Geographical coordinates: -33.8692 151.199
Wikipedia
Wikivoyage
English

Australian National Maritime Museum

This large museum has displays on the history of the RAN, and its impressive collection of ships includes the destroyer HMAS Vampire, submarine HMAS Onslow, patrol boat HMAS Advance and commando transport Krait.

Address

2 Murray St, Darling Harbour, Sydney

Price

Admission price varies - see the website
English

Australian National Maritime Museum

Great museum for kids to learn about ships. As well as a large, free and air-conditioned indoor exhibition areas there are also a few naval ships and a submarine.
Places located in Australian National Maritime Museum
Sydney Heritage Fleet, is the trading name of Sydney Maritime Museum Ltd., a public (non-profit) company in Sydney, New South Wales, Australia.
The Fleet restores and operates a number of historic vessels including the barque James Craig. In 2003 the International Congress of Maritime Museums gave the James Craig the Maritime Heritage Award.The offices, model workshop, some displayed boats, and the library are on Wharf 7 located in Darling Harbour. The James Craig is alongside the wharf. The fleet's shipyard is in Rozelle Bay; it is somewhat like a men's shed.
Address: 58 Pirrama Road, Pyrmont, NSW 2009
ar

المتحف البحري الوطني الأسترالي
be

Аўстралійскі нацыянальны марскі музей
ca

Museu Marítim Nacional Australià
eo

Aŭstralia Nacia Mara Muzeo
fr

musée national Australien de la Marine
he

המוזיאון הימי הלאומי של אוסטרליה
ja

オーストラリア国立海洋博物館
ko

오스트레일리아 국립 해양 박물관
mk

Национален поморски музеј на Австралија
nl

Australisch Nationaal Maritiem Museum
ru

Австралийский национальный морской музей
uk

Австралійський національний морський музей
zh

澳大利亞國家海事博物館
arz

المتحف البحرى الوطنى الاسترالى
be-tarask

Аўстралійскі дзяржаўны марскі музэй