Kyiv National Academic Molodyi Theatre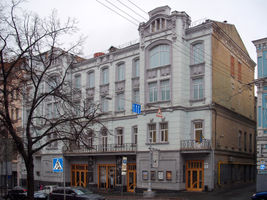 youth theatre in Kyiv, Ukraine
Geographical coordinates: 50.44828889 30.51709167
Wikipedia
English

Kiev Academic Young Theatre
The Kyiv National Academic Molodyy Theatre (Ukrainian: Київський національний академічний Молодий театр) is a youth theatre in Kyiv in Ukraine. It was founded in 1979 and opened on 14 December 1979. The first performance of the Youth Theatre was on April 26, 1980. From 1985 to the present day, the theater occupies a mansion on Prorizna Street, house 17, which in different years housed an apartment building, an officers' club, the Young Theater (Lesya Kurbasa), the cinema "Komsomolets of Ukraine".
Source: Kiev Academic Young Theatre
Russian

Киевский академический Молодой театр
Киевский национальный академический «Молодой театр» — театральный коллектив, работающий в Киеве (Украина) с момента основания в 1979 году. С 1985 по сегодняшний день театр занимает особняк на улице Прорезная, дом 17, в котором в разные годы располагались доходный дом, офицерский клуб, Молодой театр (Леся Курбаса), кинотеатр «Комсомолец Украины».
Ukrainian

Київський національний академічний Молодий театр
Ки́ївський національний академі́чний Молоди́й теа́тр — театральний колектив, що працює у Києві з моменту заснування у 1979 році. Із 1985 по сьогоднішній день театр займає будинок на вулиці Прорізній 17, в якому у різні роки розташовувалися прибутковий будинок, офіцерський клуб, Молодий театр (Леся Курбаса), кінотеатр «Комсомолець України».
Wikivoyage
Russian

Киевский академический Молодой театр

Address

ул. Прорезная, 17
Places located in Kyiv National Academic Molodyi Theatre
mk

Киевски академски младински театар
ru

Киевский нацтональный академический Молодой театр
uk

Київський національний академічний Молодий театр