Avenue des Champs-Élysées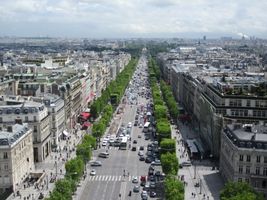 avenue in Paris, France
Avenue des Champs-Élysées (Paris)
Wikimedia Commons category: 
Geographical coordinates: 48.86967 2.30786
Wikipedia
Wikivoyage
English

Avenue des Champs-Elysées

For many visitors one of the must-see places in Paris is the Avenue des Champs-Elysées which was first created in 1667 by Louis XIV's gardener, Andre Le Nôtre, in order to improve the view from the Tuileries garden. This elegant and broad avenue was extended towards the end of the 18th century, now running from the place de la Concorde to the Arc de Triomphe. It is noted today as one of the most prestigious shopping boulevards of Paris.
French

Avenue des Champs-Élysées
af

Champs-Élysées
an

Champs-Élysées
ar

الشانزلزيه
az

Yelisey çölləri
be

Елісейскія палі
bg

Шанз-Елизе
bn

শঁজেলিজে
ca

Avinguda dels Camps Elisis
cy

Champs-Élysées
el

λεωφόρος Σαμπ-Ελιζέ
eo

Avenuo de la Elizeaj Kampoj
es

Avenida de los Campos Elíseos
et

Champs-Élysées
eu

Eliseo Zelaien hiribidea
fa

شانزلیزه
fr

avenue des Champs-Élysées
fy

Champs-Élysées
ga

Champs-Élysées
gl

Avenida dos Campos Elisios
gu

ચેમ્પ્સ-એલીસીસ
he

שאנז אליזה
hi

शॉन्ज़-एलिसीज़
hr

Elizejske poljane
hu

Champs-Élysées
hy

Ելիսեյան դաշտեր
id

Champs-Élysées
io

Champs-Élysées
it

Champs-Élysées
ja

シャンゼリゼ通り
jv

Champs-Élysées
ka

შანზ-ელიზე
kk

Шанз-Элизе
ko

샹젤리제 거리
ku

Champs-Élysées
la

Campi Elysii
lt

Eliziejaus laukų alėja
lv

Elizejas lauki
mk

Елисејски полиња
mr

शाँज-एलिजे
ms

Champs-Élysées
nb

avenue des Champs-Élysées
nn

Champs-Élysées
oc

Avenguda dels Aliscamps
pa

ਸ਼ਾਂਜ਼-ਏਲੀਜ਼ੇ
pt

Champs-Élysées
ro

Bulevardul Champs-Élysées
ru

Елисейские Поля
sh

Champs-Élysées
sl

Elizejske poljane
sr

Јелисејска поља
sv

Champs-Élysées
sw

Champs-Élysées
ta

சாம்ப்ஸ்-எலிசீஸ்
te

ఎవెన్యూ దెస్ చాంప్స్-ఎలిసీస్
th

ช็องเซลีเซ
tl

Champs-Élysées
tr

Şanzelize Caddesi
uk

Єлисейські Поля
ur

Champs-Élysées
vi

Đại lộ Champs-Élysées
yi

שאמס עליזע
zh

香榭丽舍大街
ast

Avenida de los Campos Elíseos
lij

Champs-Élysées
lmo

Champs-Élysées
mzn

شاندلیزه
nan

Champs-Élysées
pnb

شانزے لیزے
scn

Champs-Élysées
sco

avenue des Champs-Élysées
sgs

Elėzėjė Laukā
vls

Champs-Élysées
war

Champs-Élysées
wuu

香榭丽舍大街
yue

香榭麗舍大道
en-ca

Champs-Élysées
en-gb

Champs-Élysées
pt-br

Champs-Élysées
zh-cn

香榭丽舍大街
nds-nl

Champs-Élysées
simple

Champs-Élysées
zh-yue

香榭麗舍大道
bat-smg

Elėzėjė Laukā
zh-hans

香榭丽舍大街
zh-hant

香榭丽舍大街
be-x-old

Элізэйскія палі
be-tarask

Элізэйскія палі
zh-min-nan

Champs-Élysées