Amsterdam Centraal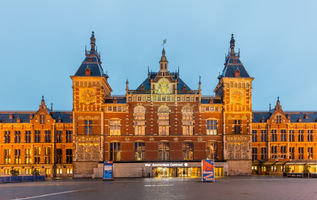 central railway station of Amsterdam
Geographical coordinates: 52.378888888 4.900555555
Wikipedia
Wikivoyage
English

Amsterdam Centraal railway station

This beautiful building is an attraction in itself, so if you did not arrive in Amsterdam by train, it is well worth making a special trip to look at the station's facade. The station was built between 1881 and 1889 on three artificial islands. It was designed by Pierre Cuypers who also designed the Rijksmuseum in a similar neo-late-Gothic/Renaissance style. At the time, the project was highly controversial as the new station would effectively cut off the city from the IJ waterfront. Politicians in The Hague pushed it through anyway, and now it is widely regarded as the most beautiful station in the country.
English

Amsterdam Centraal
Italian

Stazione Amsterdam Centrale (Station Amsterdam Centraal)

Vi fanno capolinea i seguenti treni internazionali:

:* ICE 43 — Da Basilea SBB.

:* IC 35 — Da Bruxelles-Centrale e Bruxelles-Sud / Midi.

:* IC 77 — Da Berlino-Ostbahnhof.

:* Eurostar — Da Londra-St Pancras.

:* Thalys 9300 — Da Parigi-Nord.

:* Thalys 9900 — Da Bourg-Saint-Maurice. In funzione solo tra dicembre e marzo. Un treno a settimana.

:Oltre a questi ci sono anche treni stagionali come il Krokusexpress e l'Alpenexpress provenienti da varie località sciistiche sulle Alpi in inverno messi a disposizione degli appassionati di sport invernali. Questi treni vanno da L'Aia-HS via Amsterdam a varie destinazioni alpine in Germania, Austria, Svizzera, Francia e Italia. Tra luglio e agosto il Sun-Thalys collega Amsterdam con Marsiglia.
Address: Stationsplein 9

| | |
| --- | --- |
| Named after | |
| Part of | |
| Architect | |
| Street | |
| Adjacent stations | |
| Connecting line | |
| UIC station code | 8400058 |
ar

المحطة المركزية في أمستردام
az

Amsterdam Mərkəzi Stansiyası
be

Цэнтральны вакзал Амстэрдама
ca

Estació d'Amsterdam Centraal
de

Bahnhof Amsterdam Centraal
es

Estación Central de Ámsterdam
fa

ایستگاه مرکزی آمستردام
fr

gare d'Amsterdam Centraal
fy

Sintraal stasjon
gl

Estación Central de Ámsterdam
he

תחנת הרכבת המרכזית של אמסטרדם
it

stazione di Amsterdam Centrale
ja

アムステルダム中央駅
ko

암스테르담 센트랄 역
mk

Централна станица на Амстердам
ms

Stesen keretapi Amsterdam Centraal
ru

Центральный вокзал Амстердама
tr

Amsterdam Merkez İstasyonu
uk

Центральний вокзал Амстердаму
zh

阿姆斯特丹中央車站
arz

محطة امستردام
de-ch

Bahnhof Amsterdam Centraal
en-ca

Amsterdam Centraal railway station
en-gb

Amsterdam Centraal railway station