Government House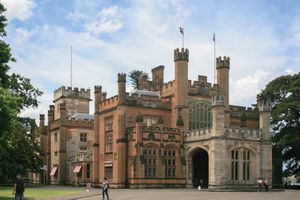 official residence of the Governor of New South Wales
Geographical coordinates: -33.8599 151.215
Wikipedia
English

Government House, Sydney
The Government House is the heritage-listed vice-regal residence of the Governor of New South Wales, Australia, located on Conservatorium Road in the Sydney central business district adjacent to the Royal Botanic Gardens, overlooking Sydney Harbour, just south of the Sydney Opera House. Constructed between 1837 and 1843, the property has been the vice-regal residence of the Governor since Sir George Gipps, except for two brief periods; the first between 1901 and 1914, when the property was leased to the Commonwealth of Australia as the residence of the Governor-General of Australia, and the second from 1996 to 2011.
The property was returned as the Governor's residence in October 2011 and was managed by the Historic Houses Trust of New South Wales from March 1996 to December 2013. Completed in 1847 and constructed in the Gothic revival style, the building is listed on the New South Wales State Heritage Register.
Source: Government House, Sydney
French

Government House (Sydney)
Government House est la résidence vice-royale inscrite au patrimoine mondial du gouverneur de Nouvelle-Galles du Sud, en Australie, située sur Conservatorium Road dans le quartier central des affaires de Sydney, à côté des jardins botaniques royaux, surplombant le port de Sydney et juste au sud de l'opéra. Construite entre 1837 et 1843, la propriété est la résidence du gouverneur depuis Sir George Gipps, à l'exception de deux brèves périodes : la première entre 1901 et 1914, lorsque la propriété est louée au Commonwealth d'Australie comme résidence du gouverneur général de l'Australie et la seconde de 1996 à 2011.
La propriété est restituée comme résidence du gouverneur en octobre 2011 et a été gérée par le Historic Houses Trust de la Nouvelle-Galles du Sud de mars 1996 à décembre 2013. Achevé en 1847 et construit dans le style néogothique, le bâtiment est inscrit au registre du patrimoine de l'État de Nouvelle-Galles du Sud.
Source: Government House (Sydney)
zh

總督府 (悉尼)
總督府(英語:Government House)位於澳洲悉尼,位處悉尼歌劇院南邊,毗連皇家植物園,可飽覽悉尼港。總督府建於1837年至1843年間,自1845年起即為新南威爾斯總督的官邸,首位進住的是喬治·吉普斯爵士(Sir George Gipps)。在1901年至1914年間,物業曾出租予澳洲聯邦作為澳洲總督的官邸;在1996年至2011年間,新南威爾斯總督也沒有以總督府作為官邸。一直到2011年10月,總督府才重新作官邸之用,並由新南威爾斯歷史建築信託負責管理。 1847年完工,以哥德復興式建築風格建造,已被新南威爾斯州國家遺產名錄中。
Source: 總督府 (悉尼)
Address: Macquarie Street, Bennelong Point, Sydney, NSW 2000
an

Casa d'o Gubierno
ca

Casa Governamental
ms

Rumah Kerajaan, Sydney
zh

總督府
de-at

synnay
zh-hk

總督府
zh-tw

總督府
zh-hans

总督府
zh-hant

總督府