Collegium Novum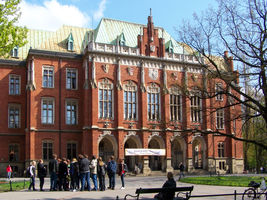 Geographical coordinates: 50.06083333 19.93305556
Wikipedia
English

Collegium Novum
The Collegium Novum (Latin: "New College") is the Neo-Gothic main building of the Jagiellonian University in Kraków, Poland, built in 1873-1887. Based on a design by architect Feliks Księżarski to match the oldest building of the University, it was opened for the 500th anniversary of the University's foundation. The Collegium Novum replaced a former academic boarding school called Jeruzalem, consumed by fire in the mid-19th century.
The building contains lecture rooms including an impressive assembly hall (called Aula), Rector's, Deans', and other university authorities' offices as well as those of a number of prominent professors. It is the Jagiellonian University's administrative centre.
Collegium Novum was opened on June 14, 1887, commencing several years of debate and construction. The decision regarding the allocation of subsidies was made in the Austro-Hungarian capital of Vienna, with the University's vital interests defended by Julian Dunajewski, the then Austrian Finance Minister. The work might not have begun at all had it not been for his commitment, as well as that of his brother Cardinal Albin Dunajewski.
Already at the time of its grand opening, the assembly hall (Aula) of the new building was too small to accommodate all guests on all occasions, even though the number of students did not exceed 1200 with approximately one hundred professors. A debate arose whether it was necessary to invite professors' wives to grand ceremonies. Most academics, in keeping with the prevailing trend of the time, were against the inviting of women guests. In the University's archives there is a formal invitation reading: "Zoll requires no ticket and wishes the ceremony to be exclusively male." In another statement, Edward Janczewski "expresses his opposition to the idea of admitting ladies to the ceremonies." Until the end of First World War, a portrait of emperor Franz Joseph I of Austria, painted by Kazimierz Pochwalski, hung in the Aula of the Collegium. On October 31, 1918 a group of University students tore it to pieces, manifesting their determination for the recreation of an independent Republic of Poland. However, a number of other paintings did survive, including portraits of the University's founding fathers Casimir the Great and Władysław Jagiełło dating back to the early 1860s, a picture of Queen Jadwiga painted in 1900 to celebrate her Jubilee, as well as the works of Jan Matejko, including his painting entitled Copernicus: Conversation with God. The chairs in the assembly hall were designed by Tadeusz Stryjeński.
On the upper floor of the College there is a lecture hall named after Józef Szujski – now used by historians – with the commemorative plaque in remembrance of the events surrounding Nazi German action called Sonderaktion Krakau where 183 professors were arrested and later sent to camps in Sachsenhausen and Dachau. The plaque reads: "For the freedom of spirit and service to science and nation of Jagiellonian University professors deceitfully and forcefully taken away from this hall and imprisoned by the Nazi occupant on November 6, 1939."
The restoration of the Neo-Gothic architectural structure took place at the end of the 20th century. It was faced with a number of challenges, notably the task of reviving the original form of the building while simultaneously improving its functionality as an educational facility. The restoration was carried out on its façade in 1994 along with the modernization of the assembly hall, which was completed in 1999. The collaboration of specialists from various disciplines allowed for both restoration and functional needs of the Collegium to be met successfully.
Source: Collegium Novum
Polish

Collegium Novum Uniwersytetu Jagiellońskiego
Collegium Novum – zabytkowy, główny budynek Uniwersytetu Jagiellońskiego, oddany do użytku w 1887 roku, położony przy ulicy Gołębiej 24 przy Plantach.
French

Collegium Novum
Le Collegium Novum (en français : « Nouveau Collège ») est un bâtiment du XIXe siècle, de l'université Jagellonne de Cracovie en Pologne.
Cet édifice fut construit entre 1873 et 1887. C'est l'architecte Feliks Księżarski qui lui a donné ce style néogothique. Il fut inauguré en juin 1887 pour la commemoration des 500 ans de la fondation de l'université. Le Collegium Novum remplaça un ancien centre académique nommé Jerusalem, détruit par le feu au mimieu du XIXe siècle.
Le bâtiment contient des salles de conférence, un splendide hall pour la tenue d'assemblées et de réunions, appelé Aula, lieu intéressant pour son plafond Renaissance, sa chaire réalisée par Tadeusz Stryjeński et les portraits de bienfaiseurs, professeurs et rois.
Dans le Collegium Novum se trouvent les bureaux du recteur, des doyens et les bureaux d'autres autorités universitaires aussi bien que ceux d'un certain nombre de professeurs éminents.
Jusqu'à la Première Guerre mondiale, le portrait de l'empereur d'Autriche, François-Joseph Ier trônait dans la grande salle Aula. Le 31 octobre 1918, un groupe d'étudiants l'a déchiré en morceaux, manifestant ainsi leur soutien à une République indépendante polonaise. Néanmoins d'autres toiles survécurent à ce mouvement étudiant, telles que celles de Casimir III de Pologne, de Ladislas II Jagellon, de Hedwige Ire de Pologne, ainsi que les œuvres de Jan Matejko notamment celle intitulée Copernic : Conversation avec Dieu.
Au premier étage se trouve une salle de conférence, nommée Józef Szujski, dans laquelle furent arrêtés par les nazis, pendant la Seconde Guerre mondiale, 183 professeurs et leurs assistants, lors de l'opération Sonderaktion Krakau. Les enseignants furent déportés vers les camps de concentration de Sachsenhausen et de Dachau.
La restauration des façades du Collegium Novum fut réalisée au cours des années 1990, ainsi que la modernisation de la grande salle de réunion Aula en 1999.
Source: Collegium Novum
Wikivoyage
Russian

Коллегиум Новум

Здание в стиле неоготики было построено в 1883-1887 гг. на месте старых студенческих общежитий. Автором проекта здания был Феликс Ксенжарский, позаимствоваший архитектурные идеи Австрии и Германии: например, великолепная лестница является копией лестницы Городского совета в Вене. Сейчас это главный административный корпус Ягеллонского университета, а его актовый зал, украшенный портретами работы Яна Матейки, используется для различного рода торжественных мероприятий.
Places located in Collegium Novum
The Jagiellonian University (Polish: Uniwersytet Jagielloński; Latin: Universitas Iagellonica Cracoviensis, also known as the University of Kraków) is a research university in Kraków, Poland.
Founded in 1364 by Casimir III the Great, the Jagiellonian University is the oldest university in Poland, the second oldest university in Central Europe, and one of the oldest surviving universities in the world. Notable alumni include astronomer Nicolaus Copernicus, poet Jan Kochanowski, Polish King John III Sobieski, constitutional reformer Hugo Kołłątaj, chemist Karol Olszewski, anthropologist Bronisław Malinowski, writer Stanisław Lem, and President of Poland Andrzej Duda. Students at the University who did not earn diplomas included Nobel laureates Ivo Andrić and Wisława Szymborska. Pope John Paul II enrolled in the Jagellonian University of Krakow in 1938 to study Polish Studies at the JU Faculty of Philosophy, but shortly after enrollment, his studies were interrupted by Sonderaktion Krakau. In 1953, Father Wojtyła presented a dissertation at the Jagellonian University of Krakow on the possibility of grounding a Christian ethic on the ethical system developed by Max Scheler.The campus of the Jagiellonian University is centrally located within the city of Kraków. The university consists of fifteen faculties, including the humanities, law, the natural and social sciences, and medicine. The university employs roughly 4,000 academics, and has more than 40,000 students who study in some 80 disciplines. More than half of the student body are women. The language of instruction is usually Polish, although several degrees are offered in either German or English. The university library is one of Poland's largest, and houses several medieval manuscripts, including Copernicus' De Revolutionibus.
Due to its history, the Jagiellonian University is traditionally considered Poland's most reputable institution of higher learning, this standing equally being reflected in international rankings. The Jagiellonian University is a member of the Coimbra Group and Europaeum.
In 2019, the Academic Ranking of World Universities (ARWU) placed the university within the 301–400 band globally.
ja

コレギウム・ノヴム
pl

Collegium Novum Uniwersytetu Jagiellońskiego
zh

新學院 (克拉科夫)
zh-hans

雅盖隆大学新学院
zh-hant

雅蓋隆大學新學院