Viktoriapark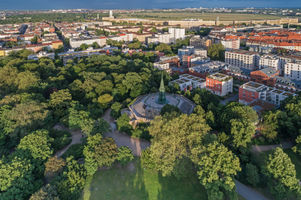 park
Geographical coordinates: 52.488888888 13.380555555
Wikipedia
Wikivoyage
English

Viktoriapark

With the Kreuzberg, a hill in Kreuzberg 61, the Prussian National Monument by Schinkel and a waterfall. Superb panoramic views across south Berlin.
Places located in Viktoriapark
The Prussian National Monument for the Liberation Wars (German: Preußisches Nationaldenkmal für die Befreiungskriege) is a war memorial in Berlin, Germany, dedicated in 1821. Built by the Prussian king during the sectionalism before the Unification of Germany it is the principal German monument to the Prussian soldiers and other citizens who died in or else dedicated their health and wealth for the Liberation Wars (Befreiungskriege) fought at the end of the Wars of the Sixth and in that of the Seventh Coalition against France in the course of the Napoleonic Wars. Frederick William III of Prussia initiated its construction and commissioned the Prussian Karl Friedrich Schinkel who made it an important piece of art in cast iron, his last piece of Romantic Neo-Gothic architecture and an expression of the post-Napoleonic poverty and material sobriety in the liberated countries.The monument is located on the Kreuzberg hill in the Victoria Park in the Tempelhofer Vorstadt, a region within Berlin's borough of Friedrichshain-Kreuzberg. The monument was conceived at a time of deteriorating relations between the reactionaries and the reformers of the civic movement within Prussia. The monument is of cast iron, a technique en vogue at the time. Its younger socket brick building is faced with grey Silesian granite and was designed by the Prussian architect Heinrich Strack and realised by the Prussian engineer Johann Wilhelm Schwedler. Its centerpiece is a tapering turret of 60 Prussian feet (18.83 m (61.8 ft)), resembling the spire tops of Gothic churches.
The Kreuzberg (German for Cross Mountain) is a hill in the Kreuzberg locality of Berlin, Germany, in former West Berlin. It rises about 66 m (217 ft) above the sea level. It was named by King Frederick William III of Prussia after the Iron Cross which crowns the top of the Prussian National Monument for the Liberation Wars, designed by Karl Friedrich Schinkel, on its inauguration on 30 March 1821. On 27 September 1921 the borough assembly of the VIth borough of Berlin decided to name the borough after the hill. The borough was subsequently downgraded to a locality in 2001.
eo

Viktorioparko
fr

Viktoriapark Berlin
he

פארק ויקטוריה
ja

ヴィクトリア公園
Image source:
• Wikimedia Commons FAL by

A.Savin (Wikimedia Commons · WikiPhotoSpace)