The Domain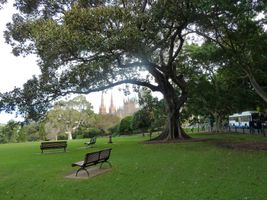 park in Sydney, Australia
Geographical coordinates: -33.865 151.2177778
Wikipedia
English

The Domain, Sydney
The Domain is a heritage-listed 34-hectare (84-acre) area of open space located on the eastern fringe of the Sydney central business district, in the City of Sydney local government area of New South Wales, Australia. Separating the central business district from Woolloomooloo, The Domain adjoins the Royal Botanic Gardens and is managed by the Royal Botanic Gardens Trust, a division of the NSW Office of Environment and Heritage, an agency of the Government of New South Wales. The Domain is a popular venue for outdoor concerts, open-air events, large political gatherings and rallies and is used daily by the people of Sydney for exercise and relaxation. Along with the Royal Botanic Gardens, The Domain was added to the New South Wales State Heritage Register on 2 April 1999.
Source: The Domain, Sydney
zh

悉尼禁苑
禁苑(英語:The Domain)是位于澳大利亞新南威爾士州首府悉尼的開放綠地,面積34公頃。禁苑位于悉尼市中心的東側,緊靠伍爾盧莫盧(烏魯木魯)區。禁苑與悉尼皇家植物園比鄰,兩者同由新州政府環境與遺產局下轄的皇家植物園及禁苑信托管理。禁苑經常舉辦室外音樂會、露天活動以及大型集會和遊行等。
"The Domain"或譯領地,在悉尼當地華人在中文裏大多直呼"Domain"。
Source: 悉尼禁苑
Wikivoyage
English

The Domain

In colonial times this land was the Governor's buffer of privacy between his residence and the penal colony. Roads and paths were constructed through the Domain by 1831 to allow public access. Since that time it has remained a place for the people to breath and relax. The Domain surrounds the Royal Botanic Gardens. In times past has been a site of often quite colourful public oratory and site of public rallies and demonstrations. Home to the popular Opera in the Domain, Jazz in the Domain, and Symphony in the Domain events in summer, as well as the Tropfest short film festival. If attending any of these events, arrive in the early afternoon to secure a picnic spot as upwards of 100,000 people attend.

Price

There are no entrance fees to the Domain, however at times the Domain is used for events and the event organisers may charge admission fees or impose other access controls to the specific areas annexed for those events
German

Domain

Sie ist die Fortsetzung des botanischen Garten südlich des Express Highways. Die 34 ha große Fläche ist ein öffentlich zugänglicher Park, hier finden des öfteren Großveranstaltungen und Open-Air-Konzerte statt. In der Parkanlage ist die Art Gallery of NSW, an der Westseite sind das NSW Parliament und die State Library.
ja

ザ・ドメイン (シドニー)
ko

시드니 도메인
sv

The Domain (park i Australien)
zh

悉尼禁苑
ceb

The Domain (parke sa Awstralya)