Andriivskyi Descent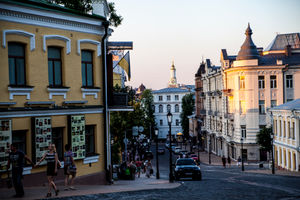 the street, a historic descent connecting Kyiv's Upper Town neighborhood and the historically commercial Podil neighborhood
Geographical coordinates: 50.46 30.51639
Wikipedia
Wikivoyage
English

Andriyivsky Uzviz or Andrew's Descent (Андріївський узвіз)

At the top of this quaint, very rough, cobblestone street is St Andrew's Church (closed for restoration since 2011). Pavements are gradually being added to the Descent but, meanwhile, take a good pair of shoes. The street is lined with souvenir sellers, restaurants, galleries and museums. Touristy but retains its charm.
Russian

Андреевский спуск

Один из древних путей, соединяющих Верхний город, его центральную часть, с торговым Подолом. На улице находится Андреевская церковь, Музей одной улицы, Музей писателя Михаила Булгакова (Дом Турбиных), мемориальный дом-музей Кавалеридзе. Сейчас Андреевский спуск — это улица-музей, одна из главных туристических достопримечательностей украинской столицы. Здесь жили и работали многие известные деятели науки и культуры: учёные, писатели, композиторы, художники, скульпторы. На улице устраиваются праздники, художественные выставки, фестивали искусств. Сюда приходят послушать уличных музыкантов и посмотреть костюмированное представление под открытым небом. В зданиях, вдоль улицы, работают художественные галереи, выставки, театры и художественные мастерские. Под открытым небом расположены многочисленные сувенирные лавки.
be

Андрэеўскі спуск
cv

Андреев сăрт айкки
de

Andreassteig
es

Andriivskiy Uzviz
fr

Descente Saint-André
hr

Andrijivski uzviz
ru

Андреевский спуск
sv

Andrijivskyjsluttningen
uk

Андріївський узвіз
zh

安德烈斜坡
zh-hk

安德烈斜坡
zh-hans

安德烈斜坡
zh-hant

安德烈斜坡