St Mark's Campanile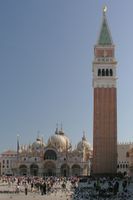 bell tower of St Mark's Basilica in Venice, Italy
Campanile of St. Mark's Basilica
Wikimedia Commons category: 
Geographical coordinates: 45.43395 12.3391
Wikipedia
Wikivoyage
English

Bell tower of St. Mark (Campanile di San Marco)

The current tower dates from 1912; an exact replica of the previous tower which collapsed in 1902. The top of the tower offers great views of Venice and the lagoon.

Address

Piazza San Marco, San Marco
French

Campanile San Marco

Haut de 98.6 mètres, le campanile de Saint-Marc faisait office de tour de garde. Elle s'écroula en 1902 puis reconstruite en 1912 qui est actuellement la construction actuelle. Cette dernière est visitable et on peut monter jusqu'au sommet.
be

Кампаніла сабора Святога Марка
ca

campanar de Sant Marc
cs

Zvonice svatého Marka
de

Markusturm
eo

Kampanilo de Sankta Marko
es

Campanario de San Marcos
et

Püha Markuse kampaniil
eu

San Markoko Campanile
fi

Pyhän Markuksen kellotorni
fr

Campanile de Saint-Marc
he

הקמפנילה של סן מרקו
hr

Zvonik Bazilike sv. Marka
hu

Campanile
id

Menara Lonceng Santo Markus
it

Campanile di San Marco
ja

鐘楼
ko

산마르코의 종탑
mk

Камбанерија Свети Марко
nl

Campanile
pl

Dzwonnica św. Marka w Wenecji
pt

Campanário de São Marcos
ro

Campanila San Marco
ru

Кампанила собора Святого Марка
sh

Zvonik Bazilike sv. Marka
sk

Kampanila
sl

Campanile
th

หอระฆังซันมาร์โก
tr

Aziz Mark'ın Çan kulesi
uk

Кампаніла собору святого Марка
zh

聖馬可鐘樓
vec

Canpanièl de San Marco
zh-hk

聖馬可鐘樓
zh-hans

圣马可钟楼
zh-hant

聖馬可鐘樓