Museum of The History of Ukraine in World War II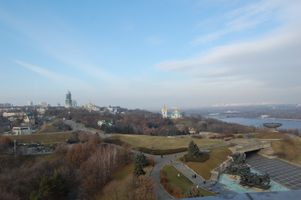 National Museum of the History of Ukraine in the Second World War
Wikimedia Commons category: 
Geographical coordinates: 50.426859 30.563696
Wikipedia
Wikivoyage
English

The National Museum of the History of Ukraine in the Second World War

A fairly large museum starting with World War II, going through Nazi occupation until Ukraine's independence. The museum is at the base of the massive Motherland statue. While the displays are mostly in Ukrainian. The museum has laminated cards in each room with varying languages including English, German and French. The museum also offers guided tours in several languages.

Price

15 грн/adult, 5 грн/student, 1 грн/child, 30 грн to take photos within the museum, 50 грн to take videos for up to 1 hr
Russian

Музей истории Украины во Второй мировой войне

Представляет собой мемориальный комплекс, расположенный на живописных склонах правого берега Днепра на окраине Печерска, одного из исторических районов города. Один из наибольших музеев Украины (более 300 тысяч экспонатов), более всего ассоциируется с 102-метровым памятником Родине-матери, ставшим одной из наиболее узнаваемых видов Киева. Мемориальный комплекс занимает 10 гектаров на холме правого берега Днепра. Он содержит гигантскую чашу Вечного огня, выставку военной техники времён Второй мировой войны, а также и послевоенных лет, аллею Городов героев. Помимо основной экспозиции действует экспозиция «На чужих войнах» Ср-Вс 10:00 - 18:00, 10 грн. Также выставка боевой техники и вооружения - работает по часам основной экспозиции, 5 грн.
Address: Via Ivan Mazepa 44
de

Nationales Museum der Geschichte des Großen Vaterländischen Krieges
es

Museo de la Gran Guerra Patria
fr

musée de la Grande Guerre patriotique
it

Museo della Grande Guerra patriottica
ja

大祖国戦争博物館
mk

Национален музеј на жртвите од Големата патриотска војна
nb

Den store fedrelandskrigen-museet
nl

Museum of the Great Patriotic War
pl

Muzeum Wielkiej Wojny Ojczyźnianej w Kijowie
ru

Музей Великой Отечественной войны
tr

İkinci Dünya Savaşı'nda Ukrayna Tarihi Müzesi
uk

Національний музей історії Великої Вітчизняної війни 1941–1945 років