Sega World Sydney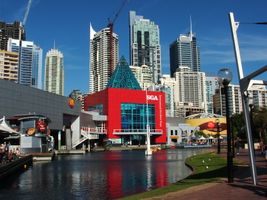 indoor amusement park in Sydney, Australia
Geographical coordinates: -33.8746 151.202
Wikipedia
English

Sega World Sydney
Sega World Sydney was an indoor high-tech amusement park that operated for almost four years, in Sydney. The theme park was built as the flagship tenant of the Darling Walk complex in Darling Harbour, and was designed and themed by gaming company Sega as one of several SegaWorld-branded amusement parks.
Land for the park was acquired by Jacfun Pty Ltd in 1994, with the amusement park opening in 1997. The remainder of the complex was sublet to a mix of retail and entertainment tenants. By 2000, Sega had pulled out from the partnership operating Sega World, and the park was suffering from low attendance and financial losses. There were hopes that tourists visiting Sydney for the 2000 Summer Olympics would help meet the visitor breakeven point, but this did not occur, and Sega World closed in November 2000. The rides were auctioned off in 2001.
Jacfun attempted to find a new tenant to replace Sega World, but the restrictive zoning meant that more profitable revenue streams (such as office-space) were unusable. In 2003, Jacfun sold its lease of the Darling Walk site back to the Sydney Harbour Foreshore Authority, with the lease to terminate in 2008. The site was leased to Lend Lease in 2008, with the Darling Walk building demolished and replaced with the new Commonwealth Bank of Australia global headquarters.
The location, which became the Darling Walk, was zoned for entertainment use.
Jacfun, in collaboration with Sega and the Darling Harbour Authority, invested A$80 million to build Sega World Sydney, which opened in March 1997. Sega World Sydney utilized the latest in multimedia, entertainment and destination attraction events. It was described as "Australia's Interactive Disneyland" by the media. Many of the themes were based on various Sega franchises, primarily Sonic the Hedgehog. The park was also host to underage dance parties called Crush, usually held during school holidays. The remainder of the complex was sublet to a mix of retail and entertainment tenants.
Due to a below-expected attendance and constant financial losses, the park was closed in November 2000. Hopes that the influx of tourists traveling to Sydney for the 2000 Summer Olympics would help the park meet its 800,000-visitor breakeven point went unrealized. Sega had sold its stake in the park to Jacfun in 1999, for A$36 million.In March 2001, the contents of the park were auctioned off. Only 300 people attended the auction, with most of the rides sold off for minimal prices. The two major rides of the park, Rail Chase and Ghost Hunters, were sold to foreign buyers, with one of the rides going for A$60,000 less than its intended sale price of A$200,000. Some of the amusement park's interior fixtures were still in place as of 2008, covered by backdrops and boarding.
Source: Sega World Sydney