musée d'Art contemporain du Val-de-Marne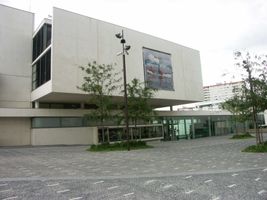 museum in Vitry-sur-Seine, France
Geographical coordinates: 48.79277778 2.38722222
Wikipedia
English

Musée d'Art Contemporain du Val-de-Marne
The Musée d'Art Contemporain du Val-de-Marne, nicknamed MAC/VAL, is a museum of contemporary art located in the Place de la Libération in Vitry-sur-Seine, Val-de-Marne, a suburb of Paris, France. It is open daily except Mondays; an admission fee is charged.
The museum opened in 2005, and is dedicated to works of art from the 1950s to the present. Its building, designed by architect Jacques Ripault, encompasses a total of 13,000 m² floor space (including 2600 m² for permanent exhibitions, 1350 m² for temporary shows, 480 m² for its research center, and 700 m² for storerooms and workshops). It also contains an auditorium and cinema of 150 seats, and is set within 10,000 m² of public garden.
Today the museum contains over a thousand works of artists active in France, including Arman, Valérie Belin, Daniel Buren, Claude Closky, Delphine Coindet, Eugène Dodeigne, Erró, Hans Hartung, Pierre Huyghe, Véronique Joumard, Valérie Jouve, Bertrand Lamarche, Julio Le Parc, Annette Messager, François Morellet, Marylène Negro, Orlan, Bruno Perramant, Dominique Petitgand, Françoise Pétrovitch, Philippe Ramette, Judit Reigl, Pierre Soulages, Jean Tinguely, and Jean-Luc Vilmouth.
Russian

Музей современного искусства Валь-де-Марна
Музей современного искусства Валь-де-Марна (фр. Musée d'Art Contemporain du Val-de-Marne) — музей современного искусства, расположенный на площади Независимости города Витри-сюр-Сен в департаменте Валь-де-Марн, недалеко от Парижа. Музей был открыт в 2005 году, его коллекция включает более тысячи произведений искусства, созданных с 1950-х годов и до наших дней французскими художниками и скульпторами. Здание музея, созданное по проекту архитектора Жака Рипо, занимает площадь 13 000 м². В музее находится кинозал на 150 мест.
French

Musée d'Art contemporain du Val-de-Marne
Le musée d'Art contemporain du Val-de-Marne (généralement abrégé en MAC VAL) est un musée d'art contemporain situé à Vitry-sur-Seine, dans le Val-de-Marne, en France. Inauguré en novembre 2005, son bâtiment a été conçu par l'architecte Jacques Ripault. Le MAC VAL est le seul musée à être exclusivement consacré à la scène artistique en France depuis les années 1950. Sa collection est issue du FDAC (Fonds départemental d'art contemporain) constitué par le Conseil départemental du Val-de-Marne à partir des années 1980. Le MAC VAL bénéficie du label « Musée de France » et fait partie du réseau Tram, réunissant des lieux d'art contemporain en Île-de-France.
az

Val-de-Marn Müasir İncəsənət Muzeyi
id

Musée d'Art Contemporain du Val-de-Marne
ja

ヴァル・ド・マルヌ現代美術館
ru

Музей современного искусства Валь-де-Марна
zh

马恩河谷省现代艺术博物馆
arz

متحف الفن المعاصر فى فال دو مارن
zh-hant

馬恩河谷省現代藝術博物館